Follow @SunbeltHockey
Follow @andrewhirsh

NASHVILLE, Tenn. – When David Poile was forced to deal Martin Erat at last spring's trade deadline, the veteran GM was none too pleased.
"I'm not going to sugarcoat it," he said on April 3. "I'm really disappointed."
Now, almost six months later, it's hard to imagine Poile still feels that way. Not with how well Filip Forsberg has been playing of late.
Forsberg, who was sent to the Preds in exchange for Erat and Michael Latta, has been one of the more impressive skaters at training camp thus far. Selected 11th overall by Washington in 2012, the 19-year-old Swede has improved leaps and bounds since his short stint with Nashville last season — and Barry Trotz's staff has definitely taken notice.
"Filip was one of the guys who came back [from the off-season] and looked like he was 10 years older," Trotz said. "Not necessarily in looking at him, just in his confidence level and his demeanor coming back. He just like like he wasn't intimidated by anybody and anything, and he just played his game.
"He's been probably one of the most consistent forwards we've had throughout camp."
Playing alongside Gabriel Bourque and David Legwand, Forsberg was one of the best players on the ice during Sunday's exhibition contest against the Islanders. He was skating to the right spots, avoided making costly mistakes and set himself up for some quality scoring chances — all encouraging signs, to say the least.
"He is a kid who is really talented," Bourque said of Forsberg. "He has come with the puck and made some great plays. He's made some unreal passes. It's hard to believe he's only 19."
Bourque's tally 3:07 into the second period came as a result of Forsberg's work in the corner and ability to feed the puck to the slot. That play-making ability was something the Predators lacked last season, and having a winger like Forsberg who can create lots of scoring chances will go a long way towards getting this team back into playoff contention.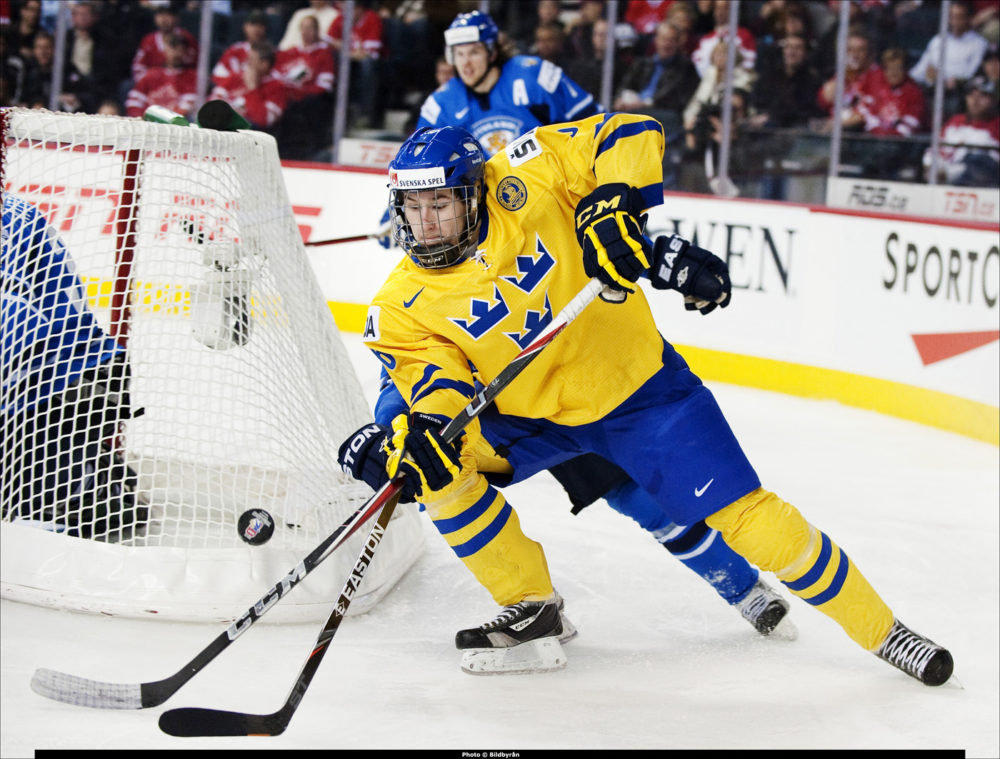 Much of Forsberg's recent success can be attributed to the sense of comfort he's established since coming to North America. Last year's cup-of-coffee with Nashville was a whirlwind experience for him, and having the chance to settle in has been crucial for his development.
"I feel much more comfortable with the ice [than last year]," he said. "I feel like I know everyone here better and that's been huge for me. Everyone is really nice here."
Forsberg's assist on Sunday was a great example of how he's adjusted to the smaller rink size than what he's used to in Sweden. Perhaps more than anything else, his ability to adapt to the more cramped playing surface speaks volumes to the kind of talent he possesses.
"I'm more impressed at his compete in really small-area type of situations because over in Europe there's a little more space and therefore you have time to adjust, there's not as much wall play," Trotz said. "And he hasn't shied away from any of that. He's actually excelled at making decisions in real small areas, which is a real gift for a young guy."
While he's performed extremely well through September, Forsberg has yet to lock up a spot on the Preds opening night roster. He knows he has to continue to play well over the next few weeks to start the 2013-14 campaign in the NHL, and isn't taking anything for granted.
But with a few more games like Sunday, he should not only begin the year with Nashville, but be given a significant role with the team, as well.
"I know I have a lot of work left to do," he said. "Hopefully I'll be on the team when the season starts this year."
–
The Predators return to action on Tuesday night when the Tampa Bay Lightning travel to Bridgestone Arena. Forsberg will not play against the Bolts as he nurses a lower-body injury that was re-aggravated on Sunday. He is listed as day-to-day.