While not yet card-carrying members of the cane-and-walker set, several of the San Jose Sharks' star players are reaching the end of their contract after this season is up. We're only a handful of games into the 2013-14 season, but knowing that Patrick Marleau, Joe Thornton, and the currently-injured-but-expected-to-return-soon Dan Boyle are all in UFA contract years, it's reasonable to at least explore the possibilities for these three very talented, desirable hockey players in the months and years ahead.
The question is: Do any of these guys not appear in San Jose next year? Moreover, do any of these guys not finish out the season in teal?
As far as the trade bait concern goes, two things can happen to ensure that each of the Big Three is not going to be moving elsewhere until after the season:
1. Be a part of a team that has a legitimate shot at a Cup run in the postseason
Oh boy, had they ever. To unabashedly mix metaphors, if it looks like this ship is taking on water, the fire sale is going to be on. But if a good chance at success seems to be in the offing for the postseason, Doug Wilson's trade trigger finger is not going to be itching when it comes to these guys.
2. Get a cap-friendly, shorter term deal inked well in advance of the deadline.
Patrick Marleau clearly has the strongest roots in the area, having been with the Sharks for his entire NHL career, dating back to 1999. Having a house, a family, and over a dozen years' worth of roots in the area give reason to believe Marleau is the most likely of the three to accept a "hometown discount" and work with the club to come up with a cap-friendly contract.
Thornton has been in San Jose for about eight years now, and clearly loves the area and the organization he's playing for. Thus, we can't rule him out for an early move either, though I suspect he's rather less likely to do so than Marleau.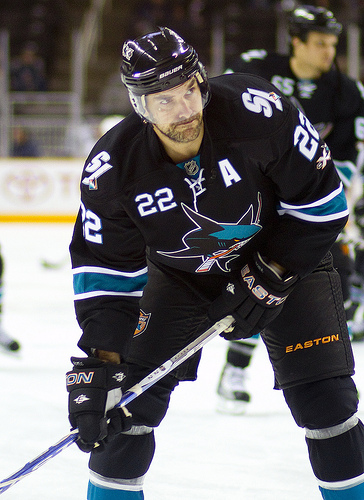 Boyle has been around the least of the three, and while he's made comments about loving the city and the organization and how he'd like to finish his career here, it's harder to tell in his case whether that's the usual hockey player interview boilerplate, or reflective of how he actually feels.
Now, based on the likelihood that that this team is, in fact, still going to be a contender come time to make a playoff run, what makes for a friendly, shorter term deal when it comes to these guys?
While age certainly isn't everything (why hello there, Teemu Selanne, you outlier, you!), Thornton and Marleau are 34; Boyle is 37. Their age becomes of particular interest when negotiating new contracts this year because of the wrinkles introduced in the new CBA. There are some interesting constraints on what could make for a workable deal for any of these three to stay put in Northern California.
The new relevant rules restricting contract chicanery are these:
The lowest salary year of a contract must be no less than 50% of the highest salary year.
The contract cannot change in salary more than 35% year over year.
For Thornton and Marleau, the math is reasonably forgiving: A three-year  or four-year contract gets each to the latter half of 37 or 38 years old, which seems like a good time, from the perspective of both the individual athlete as well as the organization, to figure out what final contract might remain to be arranged for the end of that player's career.
Under the current rules, that 3-to-4 year term makes something like $6-4.5-3 million or $6-5-4-3 million possible, on generous but declining-with-expectation salaries. Both of those possibilities, though, sit right on the line of allowable by the current CBA. Without moving the highest-paid year to a lower salary, the final year at $3 million is about as cheap as they get, because of the 50% constraint.
For Boyle, the math gets murkier. Since he's likely going to be looking at a shorter contract — two, maybe three years max — those percentage limits eliminate the "strategies" that we've seen under the old CBA.
Under the old rules, management might consider signing someone for, say  $4.5-3-1-1 million at Boyle's age because there was no limit on the ratio of highest year to lowest year. Under the new rules, though, if a player ends up with a contract paying $4 million the first year, the *least* he can make in the leanest year is $2 million. Just a hunch, but it doesn't seem likely that many management groups would be excited at the prospect of agreeing to pay, as Boyle would be, a nearly-42-year-old defenseman $2 million per in those final years.
In addition to the 50% rule over the term of the contract, there's also the 35% rule for year over year salary change. Thus, the two-year contract option is equally limiting in Boyle's case, creating the possibility of an overpaid final year — assuming, that is, that Boyle's numbers begin to fall off. For example, in the event management offers Boyle a $5 million salary in the first year, they're still on the hook for a $3.25 million salary, minimum, in year two. It looks like this next contract for Boyle could be difficult, given that the ability to drop salary over the short term is also restricted under the new CBA.
All these words, though, says nothing of what will actually happen. They're just defining the relatively new reality these hypothetical contract offers are going to have to face in the event they become actual contract offers. These are not predictions; predictions are but a fool's errand.
That said, given the quality and number of younger players that the Sharks are going to have to be signing both this off-season and next (check out CapGeek — it is ug-lee!), I don't see how Doug Wilson and company can rationalize their way into paying all three of these guys a hefty salary for a not-inconsiderable term. It seems a reasonable guess that, out of Boyle, Marleau and Thornton, management can probably muster up the cap space to sign two of the three. But the strong suspicion remains that at least one of those three will not be on a teal nameplate in the NHL next season.